Product Design
DIY design/creation
07-12 March 2022

LABA Douala


Steeve NDIWA Product designer, Naah Nnomo Essomba, architecte/designer
A creation of utilitarian or artistic objects to solve everyday problems but especially oriented towards what we would call "DIY" do it by yourself.
What would it mean to be a designer and creator of one's environment and of one's time for the problems linked to it? What are the possibilities of solutions that we have from what is offered to us by the environment? are we endowed with a know-how that can be adapted to the needs of all or only for one category of person? The methodological approach we use is defined in three main stages, the first of which is to carry out a contextual investigation in order to understand what to look for, where to look, how to look and, above all, for what purpose to look. The second is to establish an analysis of the environmental relationships between functionality, aesthetics, ergonomics and even space using tools and graphic representation. For the third, to engage in an exercise of technical manipulation for the manufacture and realization of the designed objects. A result produced by ourselves from scratch with the aim of achieving satisfaction and a sense of usefulness to society.
The participants are mainly students of the Libre Académie des Beaux-Arts (LABA) of Douala but also any external person passionate about art and or design.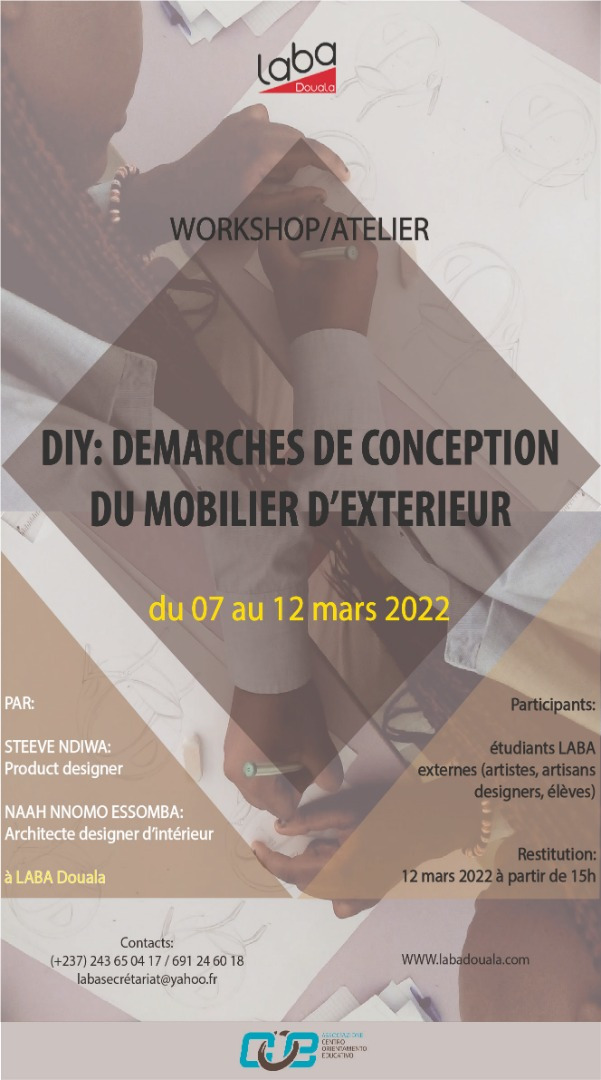 info: 
[email protected]